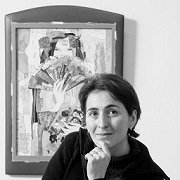 Maia Ramishvili was born in Tbilisi. From 1984 to 1988 she attended Nikoladze Art school. From 1990 to 1996 she studied painting at Tbilisi State Academy of Arts.
Female topic dominates in Maia Ramishvili's practice. Her beautiful, elegant and sophisticated characters radiate femininity and play major roles. They enchant a viewer with the magic of their charm and mystery. Maia Ramishvili fills her works with ornmanets, using an originial technique of mixing laces and paint. The background of her paintings specifically looks like a textile collage in which every detail is carefully executed.
Maia tries to bring a bit of «retro» feeling to her art, hence giving it more finesse. Although the elements of modern art are clearly present in Maia's works, some details of classical art are also there. Ramishvili's practice appears to be more like a synthesis of the old and the new, yet her works seem to exist out of any defined period of time. The artist strives to reach a visual harmony and beauty, yet at the same time she accentuates the uniqueness of her characters.
Maia's works annualy participate in art fairs in Georgia and as well as in the UK, Ireland, the USA, Europe and Russia.