Alexandra Khalipskaya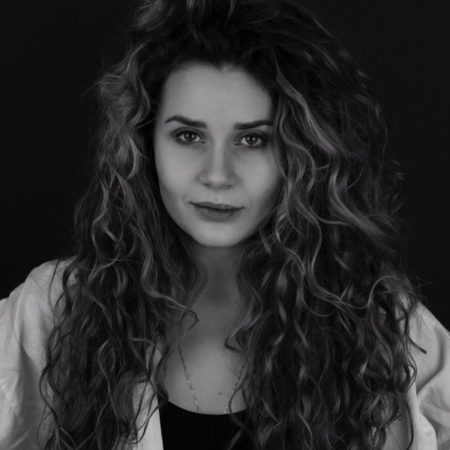 Alexandra Khalipskaya is a young artist and actress from Moscow. Whether trembling or bent, the figures in her works appear vulnerable to the viewer, as if in all their nakedness, in all their sincerity.
Alexandra's works are about love, tenderness and openness, about desire and the search for oneself. In her works, Alexandra analyses the duality of the human soul, creating her own world with runes and ancient symbols, which help to reveal the essence of her works if one can read them.
---
Kristina Kovalchuk
Christina Kovalchuk is a young artist who was born in Moscow in 1999.
The artist creates colourful, abstract, surrealist paintings, giving preference to detail, abundance of colour and illusion in her works.
«With my work I try to answer the question "How do I make an abstract thing connected?" by creating collections of fragments, contrasts, ornamentation. By wildly transforming, inverting images and deviating from accepted orders, I intend to present the elements of a painting more vividly» says Christina about her artwork.
---
Daria Semenova

Daria Semenova is an artist who works in various media, combining both sculptural compositions and graphics and painting in her art. In her sculptures, Daria often uses polymorphous, an unusual, light, malleable material.
Graduated from the British Higher School of Design and the Moscow School of Modern Art. She is a member and co-founder of the art collective DRUSBA since 2020.
In her artistic practice the artist explores processes of distortion and transformation, resorting to methods based on the use of various techniques related to chemical reactions. «In my work I create a kind of pseudo-reality, which is based on my attitude to the surrounding reality, as well as personal reasoning in the fields of: mythology, history, religion and evolutionary prognosis», says Daria about her artwork.
---
SteP.G
Stepan Gurin is a young artist from Moscow. Creates digital art, which is distinguished by a bright and juicy color palette. The artist's works show a playful and positive point of view.
---
SFKNG
Sofa Semenova is a young artist working under the pseudonym SFKNG. In 2018, she graduated from the University of Derby in Shanghai with a degree in graphic design and visual Communications.
Sofa's creativity is very intuitive and emotional. The primary thing in her paintings is color, but forms and composition are born already in the process of writing the work. According to the artist, she does not have a specific plan or sketches before starting work. The first and most important point is the choice of paint and their combination with each other, as well as any improvised materials that are suitable «in the mood» can be used. Free carelessness manifests itself in «mistakes» and stains, which become the main elements of the Sofa's work.

---
Afanasyeva Oksana
For Oksana, abstraction is a way of detaching herself from the rules of academism, where she gives herself the freedom to express feelings through an intuitive choice of color, composition, and technique. According to the artist, she has no well-developed ideas about this or that work, she relies on intuition and the subconscious.
«My works are a search for my own artistic language through random lines and spots, a jumble of details, layering and chaos of color.»

---
Semen Galinov
---
Vasiliy Kozlovskiy
---
Anna Konopleva
Anna Konopleva is a young artist from Moscow.
The works show everyday life, touching on topics such as relationships between people, modern technology, the transience of life. The artist looks at the world through the prism of the positive, so the work to some extent resemble «memes».
«I joke a lot in life, I try to look at everything from a positive angle. In part, humor is a defensive response to the complexities and uncertainties of the world. Each work for me is a way to find a solution to my problem. A joke allows me to do this safely, because even if you don't get an exact answer, in the end you can just laugh», Anna says about her work.