Alexandra Khalipskaya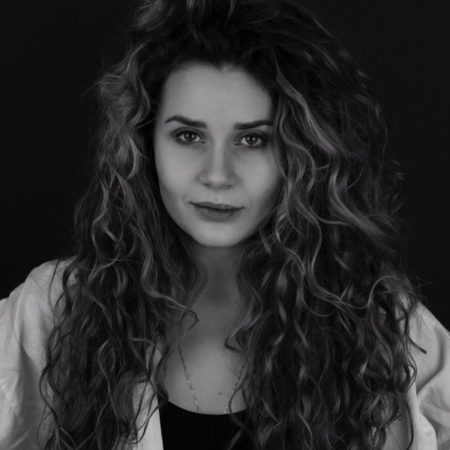 Alexandra Khalipskaya is a young artist and actress from Moscow. Whether trembling or bent, the figures in her works appear vulnerable to the viewer, as if in all their nakedness, in all their sincerity.
Alexandra's works are about love, tenderness and openness, about desire and the search for oneself. In her works, Alexandra analyses the duality of the human soul, creating her own world with runes and ancient symbols, which help to reveal the essence of her works if one can read them.
---
Polina Surovova
Polina Surovova was born in 1993 in Moscow. In 2017 she graduated with an honours degree from the Moscow State Academic Arts Institute, Department of Painting, workshop of Academician Y. A. Shishkov.
In her project «Russian beauty» Polina considers a person through modern optics. Using the language of digital technologies she translates the digital image into the material world. Distortions, mistakes and broken pictures become a phenomenon of beauty.
---
Kristina Kovalchuk
Christina Kovalchuk is a young artist who was born in Moscow in 1999.
The artist creates colourful, abstract, surrealist paintings, giving preference to detail, abundance of colour and illusion in her works.
«With my work I try to answer the question "How do I make an abstract thing connected?" by creating collections of fragments, contrasts, ornamentation. By wildly transforming, inverting images and deviating from accepted orders, I intend to present the elements of a painting more vividly» says Christina about her artwork.
---
Daria Semenova

Daria Semenova is an artist who works in various media, combining both sculptural compositions and graphics and painting in her art. In her sculptures, Daria often uses polymorphous, an unusual, light, malleable material.
Graduated from the British Higher School of Design and the Moscow School of Modern Art. She is a member and co-founder of the art collective DRUSBA since 2020.
In her artistic practice the artist explores processes of distortion and transformation, resorting to methods based on the use of various techniques related to chemical reactions. «In my work I create a kind of pseudo-reality, which is based on my attitude to the surrounding reality, as well as personal reasoning in the fields of: mythology, history, religion and evolutionary prognosis», says Daria about her artwork.
---
SteP.G
Stepan Gurin is a young artist from Moscow. Creates digital art, which is distinguished by a bright and juicy color palette. The artist's works show a playful and positive point of view.
---
Maxim Dobrovolsky
A young Russian artist. Graduated from Moscow State University of Culture and Arts in 2012, specialising in teaching photography. He has worked on museum projects in Russia. Has worked as a cameraman on documentary films in Russia, China and Armenia.
He is an experimental artist working in different styles and techniques. His work is full of vital metaphors, touching on themes of social aspects of society. In his works the artist tries to convey his inner state, feelings, emotions and awareness of self.
In his «Another World» series, Maxim Dobrovolsky explores the impact of human selfishness on other people's lives. «Every minute we are told what to do, how to live, what to think about… The impact of the new world on us is enormous, and sometimes we forget to stop and look deep into ourselves. Thanks to nurtured patterns, social media, unenvironmental selfishness, other people's dreams and love, we don't change for the better,» says the artist.
---
Elizaveta Suprun

Elizaveta Suprun is a young Russian artist from Samara. Lives and works in Moscow. She created her own unique style based on graffiti and magazine collage. Mixed media with the use of acrylic spray cans, oil, collage (based on American and Soviet retro magazines 65s−70s.)
The series of works «Heavy Suite» is based on the reception of the antithesis with elements of social art. In her works, the artist contrasts wealth, luxury and poverty, Russia and Western countries.
Through symbolism in his bright canvases, he shows the contrasts of our society and highlights socially acute topics. Elizaveta wants to make the viewer think about what a paradoxical world we live in, and remind us that society consciously overpays for the status and the mirror in which it is reflected.
A brand is a mirror of the human ego, a reflection of itself, as well as the perception of the society in which it is located. It is in this thought that the answer to the question lies why a person so clearly strives to join brands, regardless of his social status.
---
SFKNG
Sofa Semenova is a young artist working under the pseudonym SFKNG. In 2018, she graduated from the University of Derby in Shanghai with a degree in graphic design and visual Communications.
Sofa's creativity is very intuitive and emotional. The primary thing in her paintings is color, but forms and composition are born already in the process of writing the work. According to the artist, she does not have a specific plan or sketches before starting work. The first and most important point is the choice of paint and their combination with each other, as well as any improvised materials that are suitable «in the mood» can be used. Free carelessness manifests itself in «mistakes» and stains, which become the main elements of the Sofa's work.

---
Afanasyeva Oksana
For Oksana, abstraction is a way of detaching herself from the rules of academism, where she gives herself the freedom to express feelings through an intuitive choice of color, composition, and technique. According to the artist, she has no well-developed ideas about this or that work, she relies on intuition and the subconscious.
«My works are a search for my own artistic language through random lines and spots, a jumble of details, layering and chaos of color.»

---
Semen Galinov
---
Vasiliy Kozlovskiy
---
---